From the eye catching facades of swanky new Malls to the modern look of today's Office buildings, we've put together almost all the good things you see in contemporary Architecture. The possibility of designs with K Square is arguably the widest and thus it meets the most contemporary and challenging demands of the architectural firmament today. We live in the day and age of smart materials which are transforming the way people think about how buildings should be designed, built and powered up. This article will give you a glimpse of the materials available in today's market –
HIGH   PRESSURE   LAMINATES
HPL is the direct descendant of the original plastic laminate. It is considered to be one of the most durable decorative surface materials and is available with special performance properties including chemical, fire and wear resistance.Laminate panel is a type of manufactured timber made from thin sheets of substrates or wood veneer. It is similar to the more widely used plywood, except that it has a  plastic, protective layer on one or both sides. HPL panels are preferred by Architects due to their pastel color scale, natural wood designs and metallic looking HPL is the direct descendant of the original plastic laminate
Exterior panels are Duromer High Pressure Laminates  with extremely effective weather protection. The weather protective coating consists of double hardened acrylic polyurethane resins. They are produced in laminate presses under high pressure at high temperature. These panels can be used to clad the gate made of Stainless Steel or MS frame to create a beautiful and unique look to the gate.
SPECIFICATIONS
| | |
| --- | --- |
| Width Available (in ft) | 4 & 4.3 |
| Length Available (in ft) | 8 & 10 |
| Thickness (in mm) | 6, 8 & 10 |
| Other Specifications | 16 Ounce |
| Finishing | Smooth |
| Variants | Special colors available on request |
| Décor | Same décor on both sides |
APPLICATIONS
Elevation facade cladding
Balcony Casing
Fencing
Partitions using hpl
Railings
Louvers
Duct Covering on elevations
Signage with HPL framing
Pedestrian Shelters
Roofing
Soffits
Prefab Huts using HPL
For Gate And Shop Fronts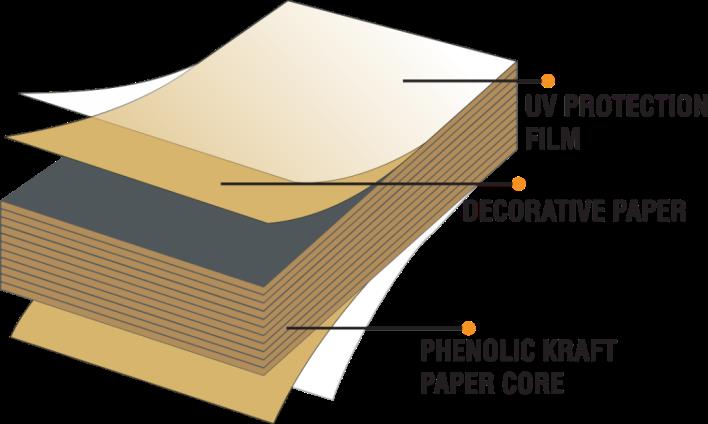 Pros
High impact and bending resistance, tensile strength and resistance to mechanical damage.
Abrasion resistance – the material is almost unaffected by abrasion.
Almost zero absorption – the material does not absorb moist (the ratio of weight of water absorbed by the material to the weight of dry material submerged into water of 65ºС for 48 hours is 1%) and thus can be used in damp rooms without limitations and be treated with water of any temperature (even steam) and pressure with the use of detergents.
High resistance to chemically aggressive environments and organic solvents.
High density (imporosity) prevents dirt from penetrating into panels' structure (including paints and graffiti) and microorganisms propagation.
Various formats including large ones.
S H E R A   B O A R D  C L A D D I N G
SHERA Board is a non-asbestos fiber-cement product composed of Portland cement, cellulose fiber and refined sand. Using a special manufacturing process called autoclave, SHERA  board acquires the strength,  durability of cement and easy workability of wood  as  well as  dimensional stability.  A  non-combustible multi-purpose application fiber -cement flat board, SHERA Board comes with various thicknesses which are suitable for various applications; ceiling, wall, and floor. It can be used for both exterior and interior applications. SHERA Boards can perfectly be calibrated and then laminated or coated with other materials, such as eg. wood veneer.
 SHERA PLANK
SHERA plank is a unique fibre cement composite of natural fibres bonded tightly in a high-grade silicate structure. It is cellulose cement plank that contains absolutely No asbestos fibre, no fibre glass fibres nor formaldehyde.
SHERA Plank is water resistant, insect and rot resistant and therefore requires very little maintenance. It is the perfect fiber cement siding for any house that needs a simple, yet durable cladding material. SHERA Plank comes in several sizes and textures to match your housing needs, making it easy to select your desired interior/exterior cladding materials.
It is also a perfect solution for cladding houses that face a constant threat from termites and water damage since it possesses excellent properties of pest resistance, impact strength and water/moisture resistance. It comes in several sizes and textures and primed planks can be coated before or after installation (double coating) with optional acrylic paint.
SPECIFICATION
SHERA Boards are 'non-combustible' and correspond to materials in building material class A2-s1, d0 (s1 = no smoke, d0 = no combustible drips), in accordance with EN13501-1.
 Sizes (mm)
Thickness (mm) 
 Weight (KG)
 1200 x 2400
1220 x 2440
 4
 18.00
18.61
 1200 x 2400
1220 x 2440
 6
 27.00
27.91
1200 x 2400

1220 x 2440

 8
 36.00
37.21
 1200 x 2400
1220 x 2440
 9,10
 40.50
41.86
45.00
46.51
 1200 x 2400
1220 x 2440
 12
 54.00
55.82
 1200 x 2400
1220 x 2440
 15
 66.27
68.50
 1200 x 2400
1220 x 2440
 18
 79.52
82.20
 1200 x 2400
1220 x 2440
 20
 88.36
91.33
APPLICATIONS
Fire resistant
Provides sound insulation
Shatter resistant
Low shrinkage
Flexible
High degree of workability
Termite resistant
Immune to water damage
Made from Portland cement, cellulose fibers, minerals, and other additives. Intense heat and pressure are applied to the mixture to form various types of sheets.
Pros
Durable.
Low maintenance.
High resistance to water, fire, mold, and termite / insect infestation.
Low moisture movement.
Non-toxic. Multipurpose usage in ceiling and wall systems. A perfect substitute for plywood in furniture, with a better quality of finish.
Cons
Currently not very well-known by carpenters however craftsmen use traditional woodworking tools.
C U R T A I N    W A L L   G L A Z I N G
Curtain – wall systems are typically designed with extruded  aluminum members, although the first curtain walls were made of steel. The aluminium frame is typically in filled with glass, which provides an architecturally pleasing building, as well as benefits such as day lighting.
However, parameters related to solar gain control such as thermal comfort and visual comfort are more difficult to control when using highly glazed curtain walls.
The development and widespread use of structural steel and later reinforced concrete allowed relatively small columns to support large loads and the exterior walls of buildings were no longer required for structural support.
The exterior walls could be non-load-bearing and thus much lighter and more open than the masonry load-bearing walls of the past. This gave way to increased use of glass as an exterior façade, and the modern-day curtain wall was born.
SPECIFICATION
By far the most common glazing type, glass can be of an almost infinite combination of color, thickness, and opacity. For commercial construction, the two most common thicknesses are 1/4 inch (6 mm) monolithic and 1 inch (25 mm) insulating glass. Presently, 1/4 inch glass is typically used only in spandrel areas, while insulating glass is used for the rest of the building (sometimes spandrel glass is specified as insulating glass as well).
T Y P E S  O F  G L A S S E S
Float glass
Sheet glass
Patterned glass
Wired glass
 FLOAT GLASS
Most widely used type of glass
Monolithic and highly transparent
Has uniform thickness, flatness
and excellent optical quality.
Manufactured in two main varieties, i.e.; clear and tinted.
Available in thicknesses 2-19 mm
Can be coloured during manufacturing.
 SHEET GLASS
There are three different kind of sheet glasses:
– Annealed flat glass
– Processed flat glass
– Misc. glass
Actual color green (or sometimes blue).
Sizes available:
2mm, 3mm, 4mm, 5mm,
6mm, 8mm, 10mm, 12mm, 15mm and 19mm.
Uses: windows, shelves, large size doors and table tops
| | |
| --- | --- |
| Thickness | Cost |
| 4-6mm | Rs 53/sqm |
| 8-12mm | Rs 63/sqm |
PATTERNED GLASS
Sometimes referred to as "figured" or "rolled" glass.
Has a pattern or texture impressed on one or both sides in the process of rolling.
This glass surface has a patterned decorative design which provide translucency and some degrees of obscurity.
Thickness: 4mm, 6mm,
Sizes: 2140 x 1280 mm, 2140 x 1320 mm respectively.
 WIRED GLASS
Fine twisted hexagonal wire netting or mesh inserted during the process of rolling.
May be patterned, smooth rolled or ground and polished.
Thickness: 5 to 7 mm.
Size: 3300 x 1830 mm.
LIC building has a curtain wall on its exterior. Reflective glass has been used for the curtain wall.
A view the building showing the use of reflective glass and space frame truss
The major companies involved in glass manufacturing
Saint- gobain
Asahi India
Gold plus group
Allied glasses
Float glass India ltd.
ASGI India ltd.
Aluminium composite panel (ACP), also aluminium composite material (ACM), is a type of flat panel that consists of two thin aluminium sheets bonded to a non-aluminium core. ACPs are frequently used for external cladding or facades of buildings, insulation, and signage.
SPECIFICATION
Aluminium Composite panels consist of a polyethylene inner core with a 0.21mm thick aluminium laminate surface on both sides. A polyester treatment on these surfaces means no painting is required and makes it ideal for screen and digital printing.
ACP is available in 3mm thickness, offering seven colours in the 2440mm x 1220mm sheet size and white in the 3000mm x 1500mm sheet size. ACP can be saw cut, cnc machined, drilled and fabricated using our state-of-the-art machinery.
APPLICATIONS
high temperature resistance (making it ideal for indoor and outdoor use)
• rigidity
• lightweight
• signage
• shop fittings
• display
• exhibitions
Pros
These  panels also provide structural value because they have a combined water and air barrier.
They are durable and offer high load performance.
Less material is required for construction when these panels are used.
The construction process is also easier with composite panels.
The composite panels are removable and this makes it easy for building owners to refurbish at their convenience. The fact that they are removable also offers greater design flexibility during construction.
The panels require very little maintenance to remain in good condition. A building owner or tenant will not spend much to keep a building well maintained if they use composite panels.
Cons
One of the main drawbacks of composite panels is cost. This means that while using the panels reduces construction time and labor costs, they are more expensive compared to traditional materials. The high cost limits the number of people who can use the material.
The composite panels are prone to dents especially during harsh weather such as hurricanes and storms. Certain manufacturers try to reinforce the panels by including some special materials to make them less susceptible to damage.
They offer a great barrier to air and water but if you are using aluminum composite panels, waterproofing is necessary to make sure moisture does not get in.
T I M B E R   C L A D D I N G
Timber cladding is an increasingly popular choice for finishing the outside of commercial and domestic properties. Otherwise known as timber weatherboarding or timber siding, it is an attractive and economical way to finish the exterior of both old and new buildings. Naturally durable woods such as larch and cedar provide a hard wearing, protective layer against the elements and they are excellent insulators.Many different species of wood are suitable for exterior timber cladding because of their natural resistance to decay.Imported timbers such as Canadian western red cedar and Siberian larch are increasingly being specified for cladding where a more modern, contemporary appearance is desired.
Timber cladding can be used in many forms to achieve a wide variety of pattern, texture and colour ranging from the use of shingles or shakes through to prefinished panels. However, the most common form of timber cladding consists of boards laid vertically, diagonally or horizontally with either overlapping or flush faces. If one adds to this the possible variations in board width, surface finish, profile shape, joint design, a wide range of colours, as well as the texture and character of unfinished wood, then the versatility of timber cladding becomes very apparent.
The plywood manufactured in India is of standard sizes and thickness. Though the metric system has largely been adopted in India, the prevalent practice in the plywood market is still to manufacture and sell the boards based on cost per sq.ft.
SPECIFICATION
The top selling and most commonly manufactured plywood size in India is 8 feet by 4 feet. Other sizes such as 8×3, 7×4, 7×3, 6×4 and 6×3 sq .feet are also manufactured.
The table below lists the standard plywood sizes in India in square feet as well as lists the corresponding value in mm.
| | |
| --- | --- |
| Plywood Size in sq.feet | Corresponding size in mm (millimetres) (rounded up) |
|  8′ x 4′ | 2440 x 1220 |
| 8′ x 3′ | 2440 x 920 |
| 7′ x 4′ | 2140 x 1220 |
| 7′ x 3′ | 2140 x 920 |
| 6′ x 4′ | 1830 x 1220 |
| 6′ x 3′ | 1830 x 920 |
The thickness of plywood sheets is also largely standardized and measured in mm (millimetres).
The table below lists the thickness range available for the various grades of plywood.
| | |
| --- | --- |
| Plywood grade | Thickness in mm |
| MR grade (Moisture Resistant) | 3, 4, 6, 8, 12, 15, 18, 21, 25 mm |
| BWR grade (Boiling Water Resistant) | 4, 6, 9, 12, 16, 19, 25 mm |
| Shuttering plywood | 6, 12, 15, 18, 21, 25 mm |
| Blockboards* | 19, 25 mm |
Pros
Ease of Installation -The relatively lightweight nature of timber enables quick and effective installation of cladding.
Durable – Timber cladding can last for several years when it is properly maintained. It has a high impact resistance that helps to reduce damage to your home.
Energy Efficient – Timber has high insulation properties. It's low thermal conductivity is much lower than steel and concrete.
Acoustics – Your choice of siding can help insulate your home. There are some materials that allow noise from to filter right through the walls into the house.
 Cons
Painting – Timber cladding requires regular painting or staining to preserve its natural beauty and protect it from the elements.
Exposure to Elements – Timber is a natural material, and as such is subject to a loss of quality or damage after being exposed to the elements for a long time.
Fire Risk  – Even if timber cladding is painted or sealed, it still carries a risk of spreading fire, as it is a flammable material
 W P C   P A N E L S
Check out project with WPC
Check out project with WPC
Wood Plastic Composites (WPCs) are produced by thoroughly mixing ground wood particles and heated thermoplastic resin. The most common method of production is to extrude the material into the desired shape, though injection molding is also used.
The first impression is encompassing, and Everwood cladding offers you the most natural looking, no upkeep solution for façade cladding. Our cladding boards lend an attractive appearance of wood, undifferentiating between contemporary or futuristically looking residences and commercial buildings.
With hard wearing properties, cladding boards are available in a host of wood colours, textured to the grained resemblance of wood. With high UV stability, cladding boards do not fade and require no maintenance, painting or sealing over extended life spans with minimal recurring costs to preserve a refined façade.
SPECIFICATION
Cladding boards are UV stable and give a natural appearance of wood which does not need regular maintenance, painting or sealing. Far more economical to other materials and quick to install, WPC cladding is low cost with minimal recurring maintenance costs.
Panel width : 300 mm (maximum)
Panel length : as per requirement through online cutting system
Panel height : 300 mm (maximum)
Panel sizes : 140 x 32, 150 x 30, 150 x 25, 148 x 30, 148 x 25, 145 x 30, 100 x 25, 160 x 60, 140 x 40, 250 x 30, 240 x 30 & many other customized sizes
thickness range : 9 mm to 300 mm
Panel density : 650 Kg/m3 to 800 Kg/m3
APPLICATION
 Best to stand with high moisture and humidity level
 Best to use as an exterior grade material
 Can be processed like natural wood and solid wood
 High impact strength
 High tensile strength
 Rough and tough material for all weather conditions
 High load bearing capacity
Embossing for various surface patterns
Sanding for making wood alike finish.
 Pros
Durable: This type of board does provide excellent performance.
Low maintenance cost: this type of board does attract lower maintenance expenses.
Environment friendly: it is from flour and plastic that the WPC bard has been created and does not contain any toxic chemicals in it at the time of processing. Moreover, it is within the EO class that it has been rated environmentally as the board could be recycled after use.
Green environmental protection features are present along with sustainable development.
It is a very good cladding material and is highly weather resistant. It is available in many colours and textures which add to the beauty of the building.
It is a costly material but is effective in the long run.
Cons
WPC is a new kind of environmentally friendly product, so there is standardized quality standard system on the market at the moment.
Do not have the natural wood texture. The thermal transfer technology and ceiling membrane technology for surface treatment make the WPC with no natural feeling.
Compared with wood, it is not resistant to high temperature.
S T O N E   C L A D D I N G
Stone cladding is a thin layer of real or simulated stone applied to a building or other structure made of a material other than stone. Stone cladding is sometimes applied to concrete and steel buildings as part of their original architectural design. Then, using a mortar mix, the stone cladding would be affixed to the wall.
Alternatively, stone cladding can be a natural stone that has been quarried and then cut into thin pieces to reduce weight. Being heavier, natural stone cladding often needs mechanical fixing to be adhered to substrates. Mechanical fixing could be using shelf angles, or perhaps a product called stone clip.
Check out some of the projects where we have used stone cladding
Projects
Projects
SPECIFICATION
For exterior facades,
Size: 600x150mm (interlocking 4 row design)
Depth: 8-15mm
Material: Slate Natural Stone
Finish: Natural
Colour variation: Moderate
Sealing required: Yes
Suitability: Outdoor use in domestic or commercial areas.
Pros
Natural stone has a very pleasing and natural aesthetic impact bringing one close to nature.
Natural Stone is an eco-friendly material.
Natural stones like granite and slate are a very strong and impervious material.
Cons
Most of the natural stones are highly porous and absorb the stain marks very easily. Such natural materials have to be sealed properly and resins must be used to close all the pores of the stone.
Some stones are soft , brittle and very susceptible to chipping, developing cracks and breaking. Stones like Italian marble , onyx and travertine develop cracks very easily.
T E X T U R E   P A I N T S
Texture in painting is the look and feel of the canvas. It is based on the paint, and its application, or the addition of materials such as ribbon, metal, wood, lace, leather and sand. The concept of 'painterliness' also has bearing on texture. The texture stimulates two different senses; sight and touch.
APPLICATIONS
Textured paint is one of the most popular types of paint in the market today. Textured paint is used in a variety of different applications and for many different reasons. It also comes in several different variations as well.
This type of paint is very popular because it does not always require the use of a primer because it is so thick. It is also commonly used to cover joints in drywall as well.
T Y P E S  O F  T E X T U R E   P A I N T S
PREMIXED TEXTURED PAINT
One of the most common types of textured paint comes in the form of premixed. Premixed textured paint will come in a bucket and it already has everything in it that you need. Typically, the paint will be mixed with sand. This type of paint makes the process much easier on you because you do not have as much work to do.
SELF-MIXING PAINT
Another popular type of textured paint involves mixing it yourself. With this method, you will purchase the base paint and then add the texture ingredients on your own. The most popular additive to put with this type of paint is sand. This type of paint allows you to create just the mixture that you want.
SMOOTH TEXTURED PAINT
Another type of textured paint involves using a smooth texture. This type of paint does not actually contain anything such as sand to create a rough texture. This type of pain is also very thick and heavy. Many times, you will not be able to apply it with a regular paintbrush or paint roller. It may require a trowel or a putty knife to apply it effectively because it is so thick. This type of paint is often used to mimic the look of stucco or plaster and therefore has to be very heavy.
ALTERNATIVE FINISHES
Textured paint is also available in a number of different finishes just like traditional paint. This gives you many more options when it comes to using a textured paint. For example, you could choose a textured paint with a glossy finish. You could also utilize a textured paint with an egg shell finish as well. Other possible finishes include flat or matte finishes.
Check out some of the projects where we uses Texture paints to highlight the elevations design.